Dear Valued Customer,
As we communicated in our earlier announcements, IMO 2020/ MARPOL/Low Sulphur, will be effective in all markets by January 1, 2020. We fully support the initiative to improve the environment and limit the impact our industry has on the planet. In the simplest of terms, lower sulfur emissions will improve air quality as well as lessen ocean acidification.
One of the key elements of Vanguard's carrier and customer relationships is mutual trust. IMO 2020 is a tangible example of these agreements, as they allow us to further integrate aspects of sustainability and transparency into our business relationships.
We would like to provide an update on what we know today.
There have been selected trade lanes in which carriers have announced their adjustments as early as November 1. This includes some Intra Asia announcements.
In the US to Caribbean, Central America trade lanes, and in compliance with FMC (Federal Maritime Commission) 30-day advance notice requirement, Vanguard issued an announcement on Oct 2. Subsequently, for cargo moving in and out of the USA, and in anticipation of upcoming Low Sulphur fuel charge increases by the carriers, we announced our indicative per cubic meter surcharges 30 days in advance. Please consider, the filing amount is simply a regulatory place holder, and the actual per cubic meter rate will be advised as the carriers make their announcements. FMC regulations allow filings to be mitigated as needed. Click here for link to view the announcement.
As we have described previously, there are a number of methods the carriers can employ in order to comply with this legislation; all of which will increase their vessel operating costs, and each carrier will use their own cost calculation to pass it on.
Accordingly, as previously announced, we will be introducing a new "IMO 2020 surcharge". (Originally introduced as Vanguard Fuel Surcharge).
The surcharge will be calculated as a means for us simply to recover our actual cost by calculating a weighted average of the costs imposed by the carrier on each trade lane. This IMO 2020 will be on every invoice issued by Vanguard on or after the effective dates communicated by the carriers. We anticipate that the surcharge will be implemented on most lanes no later than December 1st, 2019.
A simple example: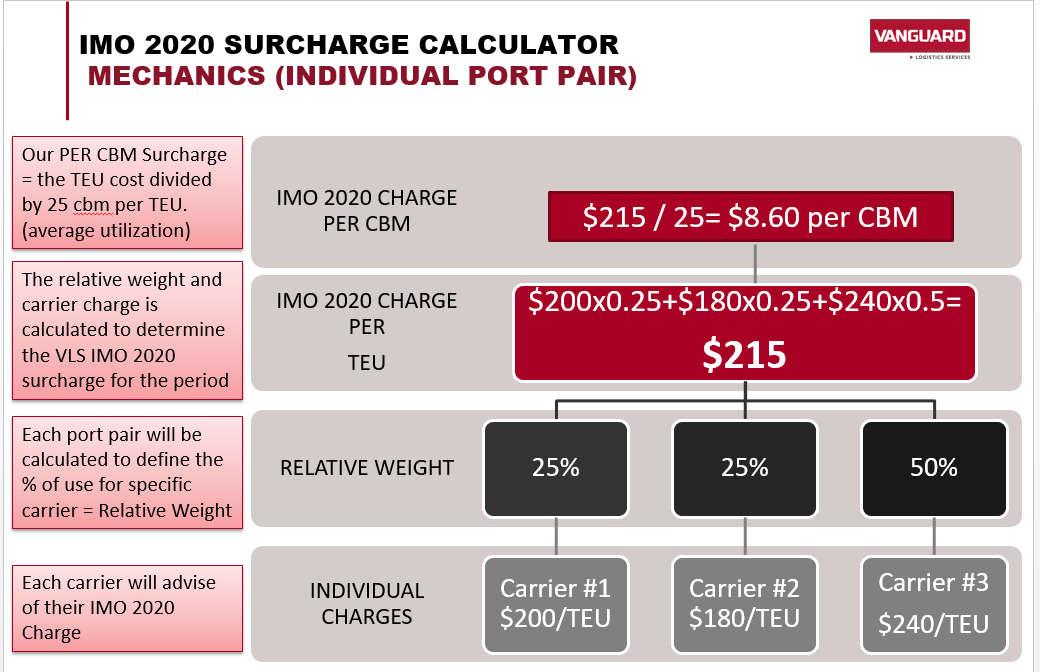 The Vanguard IMO 2020 Surcharge will be published on the 20th of every month and effective on the 1st of the following month. For all FMC lanes, we will announce any expected increases 30 days prior to the implementation.
As we receive notification from our carrier partners, we will calculate and post the IMO 2020 surcharge by trade lane on our website for ease of use. This will be updated monthly.
We thank you for your ongoing support and are here to answer any questions you may have on this topic.
Please refer to our website or reach out to your local contacts should you have any questions or require further information.
Kind regards,
Vanguard Logistics Services